---
COMPLIMENTARY CONSULTATIONS
ASK YOUR CB

D QUE

STIONS
Education is important to us and we want to make sure you feel comfortable in your decision of the proper CBD for you.
NEW Formula! Melatonin CBD with CBN for Sleep
Our new sleep formula CBD with Melatonin now has CBN. CBN, known as the "sleepy time cannabinoid," will make all of your wildest dreams come true and allow for a more restful and deeper sleep.  
CBN works best when combined with CBD, so we've reformulated our Melatonin CBD Softgels to now include 3mg of melatonin, 25mg of CBD, and 3mg of CBN. Learn more.
---
TOPICAL CBD
If skin health is important to you or aches and pains are slowing your day-to-day life down, consider adding one of our salve products to your routine! Our USDA Certified Organic CBD Oil Salve absorbs through the skin quickly providing more immediate benefits and relief with pinpoint accuracy.
Our Salves are available in 500mg and 1000mg jars as well as a mess-free stick option for relief on the go! Shop Now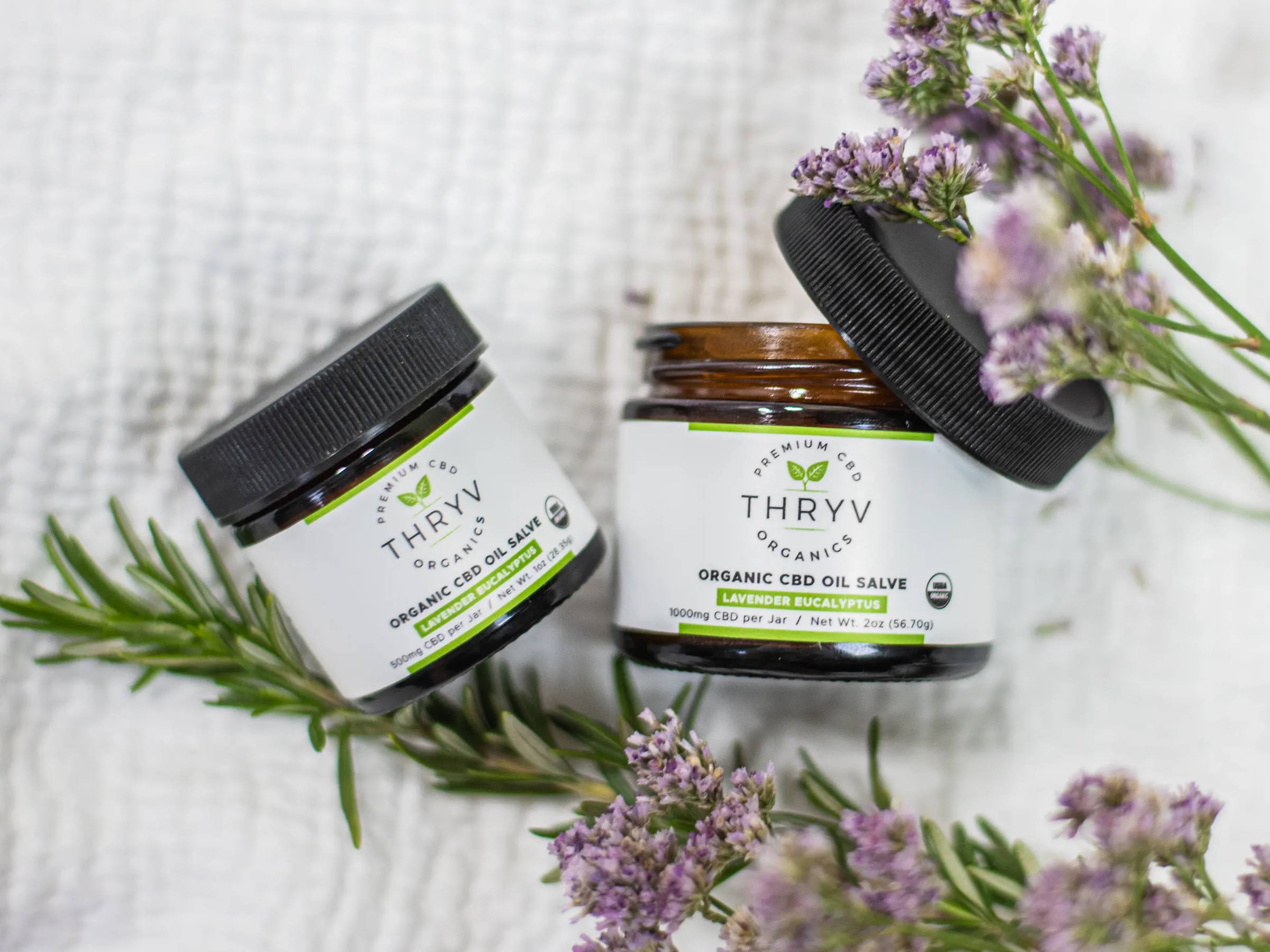 PET CBD
Our CBD for pets products are veterinarian-formulated and help to relieve joint stiffness, decrease overall anxiety and separation anxiety, and restore your pet to their younger years! Our CBD Dog Chews are a great way to administer your dog their daily dose of CBD. Or, add our Pet CBD Oil Drops to your cat or dog's food or favorite treat to help them get the same benefits from CBD that humans do.
---
---

"I have been wildly impressed with the products of Thryv Organics. I have been using the oils for sleep and can attest to the effectiveness as well as the "no hangover" feel in the morning. The ladies at Thryv are so knowledgable and helpful."

- Robin J.

"Such personalized service and excellent products! Highly recommend everyone check out this place!"

- Jennifer D.

"Thryv has helped me understand the best use of CBD to address sleeplessness and anxiety. Kristi Kelley and Stacie Czech are so knowledgeable! Go see them to help ease your stress levels and make you a happier person."

- Monica S.

"Loving the 900mg CBD drops. I used half a dropper last night and had the best sleep I've had in weeks. I even had less joint pain in my hands and feet when I woke up! I opted for the lemon flavor. It is fresh and not-overpowering. This is my new must-have product. So happy I found Thryv."

- Megan D.
HOW OUR CUSTOMERS ARE THRYVING

"I use the salve for joint pain and tendinitis. The salve works quickly and within about 10 minutes I notice that the pain is no longer an issue. Stacie and Kristi take a lot of time to go over product options with everyone."

- Aaron K.
---
SHOP OUR WELLNESS FAVORITES
---
---
STAY IN THE LOOP ON OUR
EXCLUSIVE SALES AND UPDATES
STAY IN THE LOOP ON OUR EXCLUSIVE SALES AND UPDATES
STAY IN THE LOOP ON OUR EXCLUSIVE SALES AND UPDATES
---